Expert Services in AtlantaBreitling WatchLuxury watches, especially those crafted by brands like Breitling, are not just timekeeping devices; they are a blend of precision engineering and artistry. Atlanta residents who own Breitling watches are in luck, as itsabouttimeinc.com offers specialized watch services that cater to the unique needs of these remarkable timepieces.
Expert Breitling Watch Services in Atlanta: Keeping Timepieces Precise and Elegant
Wearing a luxury watch not only serves the practical purpose of telling time but also makes a bold fashion statement. Among the distinguished brands in the horology world, Breitling stands out for its precision, craftsmanship, and distinctive designs. For those fortunate enough to own a Breitling timepiece, proper maintenance, and servicing are crucial to ensure both accurate timekeeping and the preservation of its beauty. In the bustling city of Atlanta, Georgia, watch enthusiasts can rely on itsabouttimeinc.com for top-notch Breitling watch services.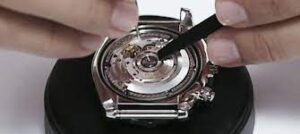 The Significance of Expert Watch Services
Luxury watches are intricate creations that require regular maintenance to function accurately and look their best. Expert watch services ensure that your cherished timepiece remains in optimal condition, whether it's a classic model or a contemporary piece.
A Glimpse into the World of Breitling Watches
Breitling, with its rich heritage dating back to the 19th century, has consistently produced watches known for their aviation-inspired designs and exceptional functionality. Each Breitling watch is a masterpiece that demands careful handling and maintenance.
The Expertise of itsabouttimeinc.com
Itsabouttimeinc.com stands as a beacon of trust in the realm of luxury watch servicing. With a team of experienced horologists, they understand the intricate mechanics of Breitling watches and offer tailor-made solutions to address their specific requirements.
Services Offered
Battery Replacement and Water Resistance Check
Regular battery replacements and water resistance checks are essential to ensure that your Breitling watch remains dependable and well-protected.
Movement Servicing and Calibration
The heart of your watch deserves meticulous attention. Professional movement servicing and calibration guarantee precise timekeeping.
Bracelet Cleaning and Repair
The bracelet is not only functional but also a prominent design element. Itsabouttimeinc.com offers thorough cleaning and repair services to restore its allure.
Dial and Crystal Restoration
Scratches and blemishes on the dial and crystal can mar the appearance of your watch. Expert restoration brings back the original luster.
Vintage Breitling Restoration
Vintage Breitling watches hold sentimental and historical value. Expert restoration preserves their authenticity and allure.
Why Choose Professional Servicing Over DIY?
While DIY watch servicing tutorials abound online, Breitling watches require a higher level of expertise. Professional servicing safeguards your investment and ensures proper care.
The Assurance of Genuine Parts
Itsabouttimeinc.com uses only genuine Breitling parts, ensuring that your watch retains its authenticity and functions as the manufacturer intended.
Convenient and Efficient Turnaround
Prompt and efficient servicing means you don't have to be without your treasured timepiece for long. Itsabouttimeinc.com respects your time as much as you value your watch.
Preserving the Legacy: Caring for Your Breitling Watch
Proper care and servicing not only maintain the watch's performance but also extend its lifespan, allowing you to enjoy it for years to come.
Customer Reviews and Satisfaction
Customers' glowing reviews and their satisfaction with the services provided by itsabouttimeinc.com stand as a testament to their expertise and dedication.
Conclusion
Breitling watches embody a harmonious blend of aesthetics and functionality (Expert Breitling Watch Services in Atlanta). To ensure that your prized timepiece receives the care it deserves, entrust it to the skilled hands of itsabouttimeinc.com. With their specialized expertise, genuine parts, and commitment to preserving horological legacies, they are the go-to destination for Breitling watch services in Atlanta.