Welcome to our premier luxury watch repair services in Atlanta! When it comes to maintaining and restoring the elegance of your high-end timepieces, we stand at the forefront of excellence. Our expert watchmakers and technicians combine years of experience with a passion for craftsmanship to deliver unparalleled repair services that cater to your luxury watch's every need.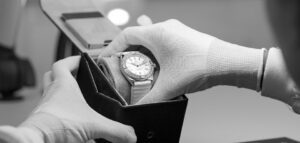 Unrivaled Expertise in Luxury Watch Repair Services in Atlanta
At our Atlanta watch repair center, It's About Time pride ourselves on our unrivaled expertise in repairing a wide range of luxury watch brands and models. From the timeless elegance of Rolex to the intricate mechanics of Patek Philippe and the cutting-edge technology of TAG Heuer, our skilled team is well-versed in the intricacies of various watch types. We understand that each watch is unique, and our repair process is tailored to address the specific needs of your timepiece.
Comprehensive Watch Restoration
Our commitment to excellence extends beyond simple repairs. We specialize in comprehensive watch restoration, breathing new life into vintage and antique timepieces that hold sentimental value and historical significance. Our meticulous restoration process involves disassembly, cleaning, reassembly, and calibration, all performed with the utmost care and precision.
Genuine Parts and Materials
We understand that luxury watches deserve only the finest components. That's why our repair and restoration services exclusively use genuine parts and materials sourced directly from the original manufacturers. This ensures that your watch maintains its authenticity, performance, and value throughout the repair process and beyond.
Transparent Communication
We believe in transparent communication every step of the way. Upon receiving your watch, our experts conduct a thorough assessment and provide you with a detailed diagnosis. We explain the necessary repairs or restoration work needed, along with a transparent cost breakdown. You can trust that there will be no surprises when it comes to the services we provide.
State-of-the-Art Facilities
Our state-of-the-art facilities in Atlanta are equipped with cutting-edge technology and tools, allowing our skilled watchmakers to perform intricate repairs and restorations with precision. From intricate movement repairs to crystal replacements, we have the expertise and resources to handle it all.
Customer-Centric Approach
At our It's About Time luxury watch repair services in Atlanta, the customer is at the heart of everything we do. We understand the sentimental and monetary value that your luxury watch holds, and we treat each timepiece with the utmost care and respect. Our customer-centric approach ensures that you receive personalized service that exceeds your expectations.
Our Commitment to Excellence
When it comes to luxury watch repair services in Atl, our commitment to excellence sets us apart. With a dedicated team of experienced watchmakers, the use of genuine parts, transparent communication, and a passion for preserving the beauty of luxury timepieces, we are your trusted partner in watch repair and restoration. Contact us today to give your cherished timepiece the attention and care it deserves.