Best watch battery replacement locations in Atlanta
It's About Time, John's Creek location

11300 Medlock Bridge Rd, Johns Creek, GA 30097

It's About Time, Perimeter Mall location

4400 Ashford Dunwoody Rd, Suite 1285 (next to Macy's), Atlanta, GA 30346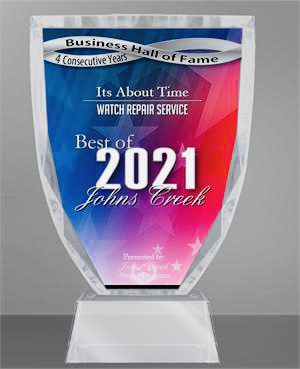 Could you ever get over the embarrassing feeling of stepping out finely dressed with your watch on, only to realize that the hand is not ticking? With our experts on watch battery replacement, we could relieve you of such feeling like it never really happened.
At Its About Time, we have the quickest same-day service for watch batteries. We do dozens of watch battery replacements at our Johns Creek and Perimeter It's About Time locations daily, and all of our watch sales and service associates are specially trained to do them.
WHY GO FOR A WATCH BATTERY REPLACEMENT?
So many things make up to the reason why you should go for a watch battery replacement:
Hands Not Moving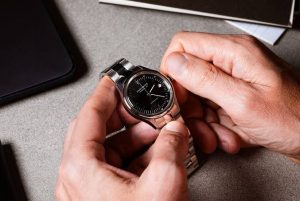 When the hand is not moving like it's in a frozen state, is one of the signs that you need a watch battery replacement. Sometimes, it could not just mean that the battery is responsible for this. Which is more of the reason why you need our team of experts to carefully diagnose the problem of your watch.
Watch Displaying Incorrect Time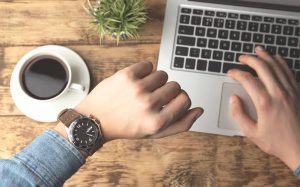 Its afternoon by all indications and the time on your watch still reads 8:00am? Then, something must be wrong somewhere. Get your watch battery replaced to enable your watch tell the accurate time. Nothing can be so embarrassing as telling the wrong time to a fellow or allowing it mislead you.
Moisture/glass rattling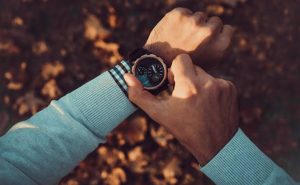 This is mostly seen under the glass of your watch, when you notice this or hear a rattling sound, then it is time for you to run a battery replacement on your watch. For watches that are not waterproof, a little moisture can disrupt the tiny parts powering your watch.
WATCH LOOK-OVER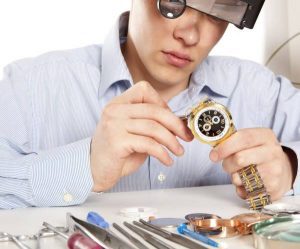 A watch battery is not as simple as a YouTube DIY may make it seem, or as a small repair shop may tell you it is. Even a simple power cell change takes meticulous observation of the case, the inner parts of the watch, checking for traces of corrosive acid leaks. We look at the water-resistance quality of the watch- the case, tube, and gaskets, pushbuttons if it is a watch with a chronograph, GMT, or multi-function options. The old battery is always tested as that tells us whether there is something else wrong with the timepiece if it still has a full charge. If the watch needs a gasket change or water pressure test and seal, it is recommended to the customer. The sealing of the case is always done using professional tools.
Our Swiss-trained and certified watch technician personally does all higher-end batteries such as Ebel watches with a front or top open case, split stem watches, Omega, Tag Heuer, and other dive-rated watches that need a gasket change, pressure test, and seal. We also work on Audemars Piguet and other high-end Quartz watches and 18k vintage and new watches.
We also do battery changes on Eco-Drive, Solar Tech, and Kinetic watches. These watches have a rechargeable battery called a capacitor that allows the watch to store charge and use when needed to keep your watch on time.
Eco-Drive, Solar Tech,
Casio G-Shocks
, and other Solar watches use a capacitor to store charge after the watch has been exposed to light and keep it running and on time in the dark whether overnight, stored in a drawer for a few months, or occasionally used. If for any reason it needs more work than a rechargeable cell/capacitor the customer is not charged for the service and is given a free estimate to fix the timepiece.
A Kinetic watch works similarly. Instead of light, however, it uses kinetic energy when the wrist is in motion and stores it in the capacitor to keep the watch on time when not in use. If this doesn't work for any reason and the watch needs more work the customer is not charged for the capacitor change and is given a free estimate for the service it would need.
We offer a 12-month warranty from the date of purchase on all our watch battery replacements. We would love to see you in with your timepiece for a professional and cost-effective service.
CONCLUSIVELY
Watches are not made to last for eternity but watches can be best enjoyed when they stay for a longer period of time. During the period of their stay, something may go wrong. So, if you are ever in need of new watch that will last for generations check out our wide assortment of high-end watches. With It's About Time, your size, style and taste can never go wrong.
For help or further enquiries regarding our services please don't hesitate to call us. You can also visit us at the address below. You can also use the online form to send us an email.
BUY NOW or CLICK HERE for our Covid-19 precautions and arrangements.